Acroyoga Events in Calgary
One-off events and weekly activities
We prefer all new acroyogis to attend a few instructed classes before joining in at an unstructured jam.
Friday, March 29th to Sunday, March 31st, 2024
Calgary Gymnastics Centre North
2638 Country Hills Blvd NE, Calgary AB T3N 1A7, Canada
Welcome back to the biggest Canadian gathering of the spring!
14 hours of acroyoga focused workshops with simultaneous beginner & advanced classes, with an evening event on Saturday night.
Teachers are joining us from around North America. The full list is TBA!
Located at Calgary Gymnastics Centre North
Payment & Pricing:
The final day for Earliest Bird pricing is Nov 18th.
The final day for Early Bird pricing is February 17th.
Earliest Bird - $215
Early Bird - $235
Early Bird 2-Day $200
Full Pass - $265
2-Day Pass - $225
Friday Pass - $120
Saturday Pass - $155
Sunday Pass - $120
TICKETS GO ON SALE LATE OCTOBER!
Schedule:
Classes will fall between 4pm on Friday the 29th and 2:45pm on Sunday the 31st.
Exact schedule TBA.
PRE-FEST TBA, beginning as early as 8am on Friday the 29th.
More details on: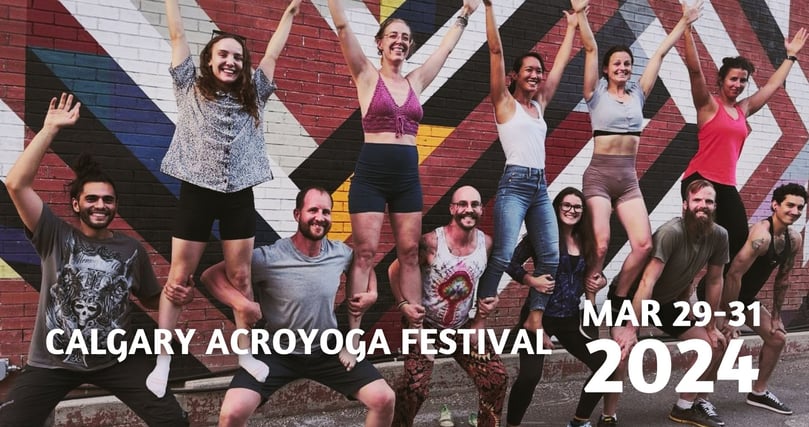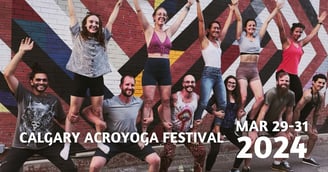 Friday Nov 17 at 2pm until Sunday Nov 19 at 4pm.
Calgary, exact location TBA
18 hours of Hand to Hand, Icarian, and Standing Acro taught by Elliot Fudge, Hayley Silberg, and Bryce Hodgkinson. This program is open to everyone who can demonstrate the prerequisite skills. Acroyoga Calgary Teacher Training grads have the additional chance to increase their certification hours from 80 to 100.
Prices:
$270 Full Weekend
$65 a la carte classes
More discounts for our Teacher Training grads and for Captivate athletes.
Full details on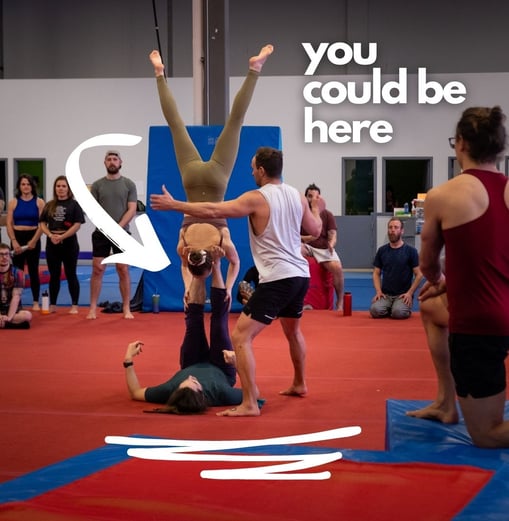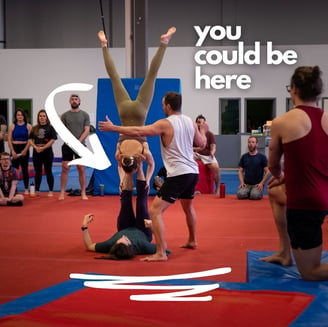 Mondays, Aug 14, 21, 28th, and Sept 4th
6 - 7:30PM
Dance Life Calgary
2312 4 Street SW
Ever wanted to learn acroyoga? This beginner series is just for you! In this four class series we will have a ton of fun exploring all of the basic acroyoga postures, playing with transitions between poses, honing foundational concepts, and relaxing with partner stretches. At the end of this series you will be confident in your acro skills and ready to play with acroyogis all over the world!
The entire series is $80 for all 4 classes. Dates are Mondays, Aug 14, 21, 28th, and Sept 4th. Classes are 6pm - 7:30pm.
Etransfer: Antonio.sy.ma@gmail.com
Join us and discover a new sense of fun and play!
More details on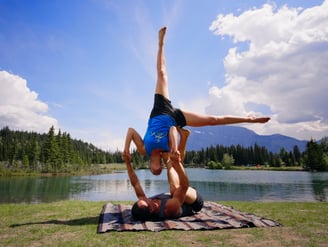 Mondays
5 - 6:30PM
Riley Park in View of the Playground
(Outdoors, Weather Permitting)
Elliot Fudge and Solana Crowe are leading an All-Levels class at Riley Park. Anyone and everyone is welcome to come out and play! All levels welcome, all ages, no prior yoga or acro experience required.
Prices:
$20 Drop In
$15 First Time
Save $5 by bringing a new friend
More details on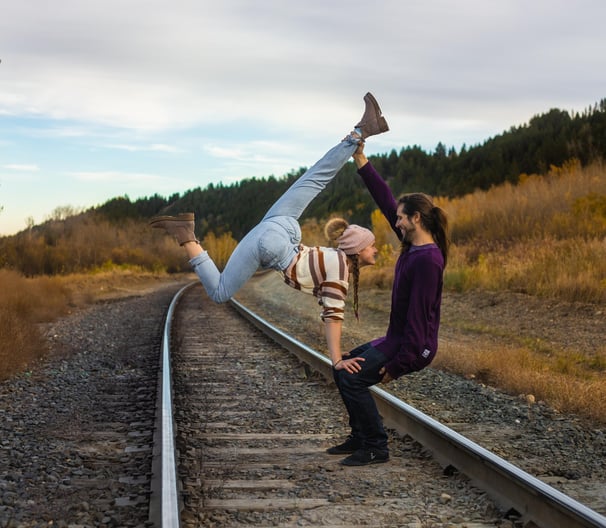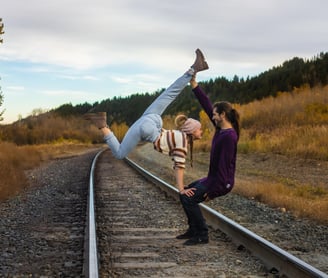 Beginner-Friendly Flow Class
Every Wednesday, 7:15 - 8:45PM
Peak Fitness YYC
2514 Battleford Ave SW
Learn flows and technique with Sarah & Bryce at Peak Fitness YYC! We bring you a new acroyoga flow or skill each week. ​
If you're new to acro, this class is beginner friendly! ​ You don't need to bring a partner. Please do bring water and athletic clothes. ​
Class is $20, but your first class is $10 and we offer an 8 class pass for $130. ​
More details on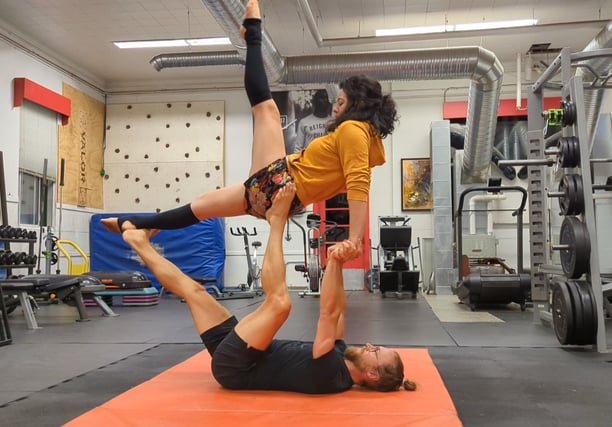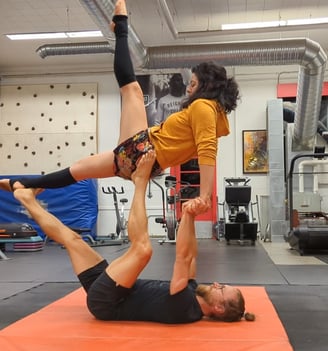 September 15, 22, 29, October 6, 13, 20, 7 - 8PM
Green Fools, in Calgary
TIME: 7-8pm
COST $180.00
No experience necessary for this class.
This beginner acroyoga class will introduce you to the basic concepts of partner acrobatics. You will build strength, flexibility, balance and body awareness, all while playing and exploring new shapes.
You will learn to safely execute movements with one or more partners, as well as different spotting techniques.
Be ready to go upside down, literally lift other people up and find a new way to play and interact with friends in a safe space.
Come with a partner or by yourself. Coach = Anne-Marie Hivert
Sign up on Green Fools website here: