Acroyoga Teacher Training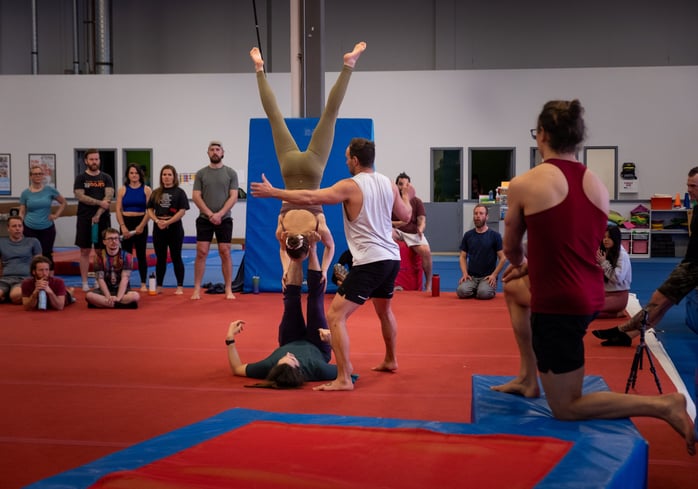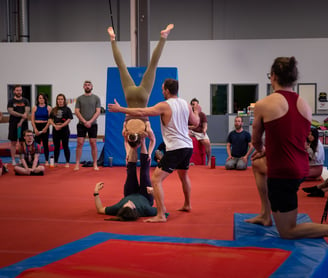 Get certified to share what you love! Polish your acro skills while you learn to teach acroyoga. ​
Bryce Hodgkinson, Elliot Fudge, and Hayley Silberg discovered acroyoga through different movement modalities and bring complementary perspectives on developing confident and capable acro teachers. We want to empower people to grow safe, creative, inclusive acroyoga communities, so we crafted this intensive program which offers students biomechanical tools and practical facilitation skills to share acro with the world.
Each module covers close to 2 full days and includes skill fundamentals, teaching practice, and theory discussions. This teacher training will culminate in a practical and written assessment, and ultimately, instill in each participant the efficacy to share acro in their own safe, unique and vibrant style. Unless your natural style isn't vibrant.
Location ​
All parts of the training occur in Calgary. We will announce the exact location shortly.
Modules
1) Foundational Refinement
2) Transitions and Calibrations
3) Whips and Pops
4) Standing Acrobatics
5) Creativity, Performance, and Acro Business Skills
6) Washing Machines and Therapeutics
The modules run every day of the training. ​
Pre-requisites
There are several pre-requisites. Please compile the following skills into one video and upload it to YouTube or share on Google Drive to contactacroyogacalgary@gmail.com for viewing by the training leaders. (Yes, we just changed our email!)
Individual Components:
30s handstand against wall
1 minute plank
Press to headstand
Full bridge/wheel
Standing forward fold
Seated straddle stretch/pancake
Downward dog
Cartwheel
Forward roll
Handstand kick ups (free standing)
Partner Components (base or fly):
Reverse star
2-high
Ninja star
4-step
L-sit on hands (5s)
Pop bird to throne and return 1 min partner acro routine ​
Individual Component pre-reqs are for us to get to know you better. Partner Component pre-reqs are required to partake in the training. If you are unable to complete any of these pre-reqs, please contact us and we may allow modifications as required. ​
Pricing ​
Application before April 1, 2024 - $1599
Application after April 1, 2024 - $1899
We're offering a buddy discount. If you submit your pre-requisite videos with a partner who is also attending, you both get $50 off the price. If you've already paid, we will return $50 after we see the buddy pre-req videos. ​
Please e-transfer payment to contactacroyogacalgary@gmail.com with the password: elephants. Please ask for our paypal contact info if you're paying with USD.